CHETEK — Smokey Bents was with his wife at a community event in Turtle Lake the day before Easter when a friend walked over to show him some chatter on Facebook.
Two police officers had been gunned down in broad daylight on a highway outside of Cameron.
Bents at first dismissed the news as mere gossip. It was too outrageous and sensational. Too surreal. But as more information trickled in, Bents, who is from nearby Cumberland, learned the news was true.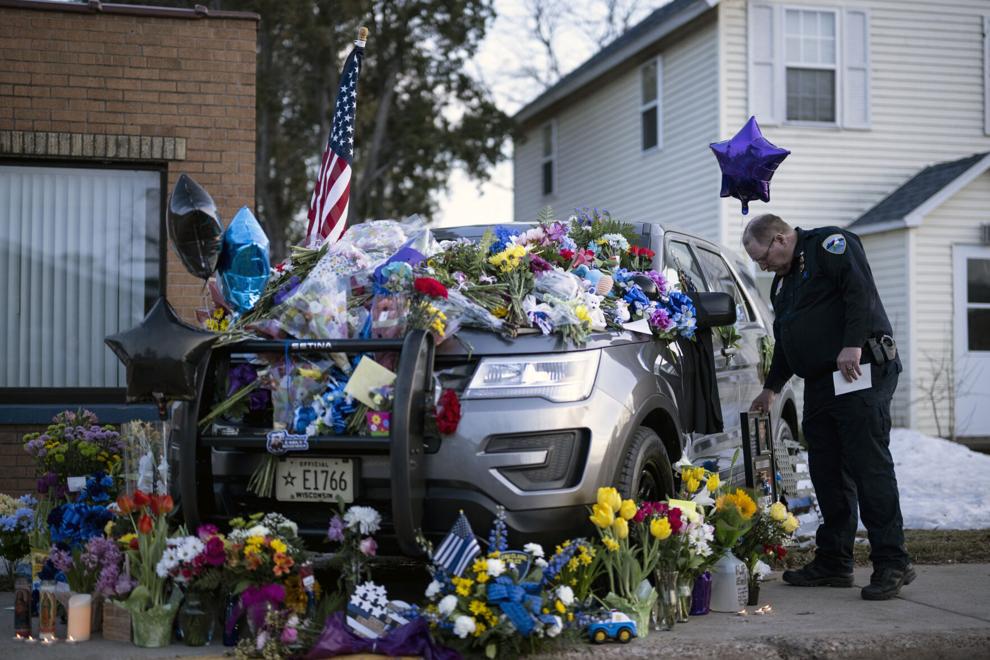 On Tuesday, Bents stood about a mile from the site of the crime scene on Highway SS. Positioned between a lumber yard and a concrete supplier, only a cross and blue-ribboned flowers now mark the scene of a horrific event that would change this small community.
But next to Bents in the parking lot of the Cameron Village Hall sat a police cruiser converted into a flower-covered shrine for Officer Hunter Scheel. Down the road in Chetek, there is a similar scene for that city's fallen officer, Emily Breidenbach.
"It's a sad situation," Bents said.
Chetek and Cameron are home to about 2,000 people each. The violence of April 8 left people in the two northwestern Wisconsin communities about 215 miles northwest of Madison grappling with grief, memories and loss. The unthinkable tragedy hit these small towns especially hard, because most people knew these officers personally. And it's prompted an outpouring of support for the families, police and one another.
Blue ribbons line the street posts of Chetek, and the bridge that divides Lake Chetek and Prairie Lake. Northwoods Bakery, in the city's downtown, is selling "Back the Blue" cookies emblazoned with a badge and rose. The proceeds will go to the families of Breidenbach and Scheel.
Black and blue "Thin Blue Line" flags are seemingly everywhere, from poles and storefronts to the backs of pickup trucks.
And at the mouth of Highway SS, a white flag that's been fastened to a bucket truck reads: "Chetek and Cameron Strong."
Fateful stop
Only the barest of facts have been publicly confirmed about what happened along the about 8-mile stretch of highway that connects Chetek and Cameron.
Breidenbach and Scheel stopped the vehicle of Glenn D. Perry, of New Auburn, because of "concerning behavior," the Wisconsin Department of Justice has said. A shootout ensued, leaving the officers dead at the scene. Perry later died at a hospital.
Perry had a criminal record. In October 2020, he pleaded no contest to misdemeanor disorderly conduct and domestic abuse charges. Earlier that year, Perry had punched his 18-year-old son in the stomach and side after using a crowbar to pry his way into their house so he could "obtain a coffee grinder," according to court records. In late March, a judge issued a warrant for Perry's arrest because he hadn't shown up to a hearing over his lack of child support payments.
DOJ's Division of Criminal Investigation has stepped in to lead the investigation, and until that's complete there are few details or answers. The community instead is left with word of mouth, speculation and one question: Why?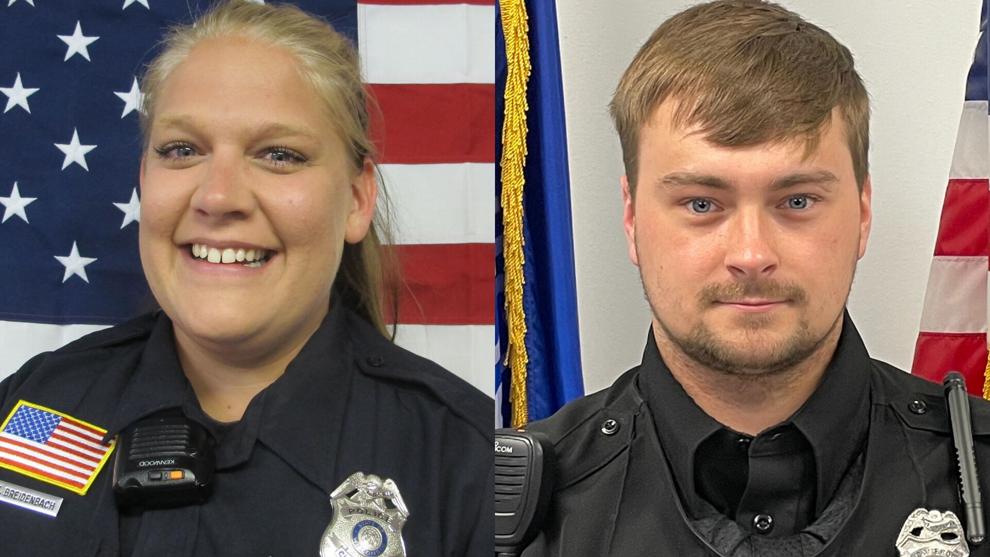 'Officer Emily'
Like so much of northern Wisconsin, Chetek thrives on the changing of the seasons. When the snow and ice disappear, people flock to the resorts that dot the lakefront. Its population swells, with lines that can go down the street on weekends outside the downtown diner and ice cream stands.
But the Police Department remains small: two officers, a lieutenant and a chief. One of those officers for the last four years was Breidenbach, or "Officer Emily" as the community knew her.
She was the daughter of former Chetek Police Chief Robert Breidenbach, and a portrait of her has emerged since her death as the epitome of a law enforcement officer.
Nearly everyone, it seems, has a story about Breidenbach.
Matt and Sammy Sheppard knew her from their work at Camp Chetek, a Christian camp for children. She often visited to play 9 Square in the Air, a popular playground game, with the kids, many of whom were disadvantaged youths from Minneapolis.
"It definitely feels like a pillar of the community has been lost," Sammy Sheppard said.
On Tuesday, the Sheppards set a potted flower at the wheel of the police cruiser that is now Breidenbach's memorial in front of the Chetek Police Department.
Matt Sheppard still has a laugh thinking about when Breidenbach pulled him over for driving an ATV past curfew.
"It's an awful thing for us as a community," he said of Breidenbach's death.
Chetek Mayor Jeff Martin, who has lived in the community since the early 1990s, used to give Breidenbach rides home when she was young. Shortly after he became mayor in 2016, the roles got reversed, with him joining Breidenbach for a ride-along during one of her shifts.
During that shift, Martin watched as Breidenbach followed up on a drug sale tip, performed a welfare check on a temporarily homeless person staying at a local hotel and stopped a vehicle for an OWI.
"To me, that ran the gamut," Martin said during an interview in his office at city hall. "We're doing community service and public safety."
'Life-long dream'
Scheel had slightly less experience in law enforcement, joining Cameron's force last year and becoming a full-time officer in January, his obituary said.
But his history of service dates to his time with the Army National Guard, where he served a tour in Afghanistan between 2019 and 2020.
Scheel then "fulfilled his life-long dream by enrolling and graduating from the Police Recruit Academy at Northwoods Technical College in Rice Lake, graduating in 2022," his obituary said.
"To come home unscathed from that (Afghanistan) only to be gunned down in your hometown?" Martin remarked, shaking his head.
A pastor, Martin was at home the day of the shooting when he received the terrible news from the city's police chief, Ron Ambrozaitis.
"He gives me the info, and it's like, 'What?'" Martin said, the shock of that moment still fresh in his face.
The area is no stranger to shocking crimes. In 2018, a man kidnapped 13-year-old Jayme Closs after killing her parents in their home in nearby Barron. Closs eventually escaped her captor after almost three months. The year before that, a Chetek man killed his ex-wife and her daughter before killing himself.
But the loss of beloved police officers in such a violent way is a new kind of tragedy for the community.
"This kind of thing is a big-city problem. We're out of our depth," Martin said. "This is close. This is hard."
Funerals planned
Over the last week, Chetek and Cameron have experienced the by-now familiar, somber ritual that follows the death of first responders in the line of duty.
On Monday, nearly 100 law enforcement vehicles joined a procession as the bodies of Breidenbach and Scheel made their way back home after autopsies in Minnesota.
The funerals for the officers will take place Saturday, when Gov. Tony Evers has ordered flags to fly at half-staff.
"It's horrific," said Jim Palmer, executive director of the Wisconsin Professional Police Association.
In Wisconsin, the surviving family of an officer who dies in the line of duty receives 75% of their death benefits or at least $50,000 in addition to their loved ones' retirement savings. They can also receive death and education benefits from the federal government.
"That's where we can be a resource to them," Palmer said.
"The devastating loss of these two officers represent the worse nightmare of our officers and the loved ones that support them throughout the state," Palmer said.
Breidenbach and Scheel are the second and third police officers to be killed in the line of duty this year. In February, a robbery suspect shot and killed Milwaukee Officer Peter Jerving after Jerving chased the person down and a struggle ensued.
A world away from big cities like Minneapolis, where the police killing of George Floyd in 2020 ignited protests across the country, many people in Chetek and Cameron bemoan the backlash against police.
Standing next to Scheel's memorial site, Joe Trombley reflected on why police are valued more in small communities.
"We're not as quick to criticize," Trombley said. "They're more part of the community than in a larger metropolitan area."