A 28-year-old woman with no permanent address was arrested April 8 after she allegedly committed a strong-arm robbery at a La Crosse convenience store.
Tirzah M. Anglin was charged in La Crosse County Circuit Court a felony count of robbery/use of force and a misdemeanor count of resisting an officer.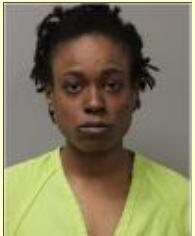 According to the criminal complaint, police responded shortly before 1 p.m. to Kwik Trip on Copeland Avenue, where witnesses told police that Anglin walked behind the counter and demanded money. Anglin reportedly pounded a cash register told a cashier to, "Open it, open it … right now." The cashier opened the register and Anglin pulled out cash.
The complaint says Anglin attempted to flee the store but was detained by two customers. Anglin was struggling against the two when the store manager approached and asked them to let Anglin go.
Police were called as the incident was unfolding and were able to locate Anglin a short time later as she was walking in a nearby parking lot. The complaint says Anglin attempted to flee but was subdued and handcuffed by two officers. Police searched Anglin's fanny pack and reportedly recovered $62 in cash and an orange cap gun.
Anglin reportedly told police she was struck by a vehicle prior to entering Kwik Trip, but police couldn't find any evidence of injuries.
Anglin is being held in the La Crosse County Jail on a $2,500 cash bond. She has a preliminary hearing set for April 17.